Also known as
Margaret of Citta-di-Castello; Margaret of Metola
Memorial: April 13
Patron of the forgotten, disabled, hopeless, blind, the poor and the sanctity of life
Bio:
Blessed Margaret was born in 1287 at Meldola, Vado, Italy, to wealthy parents - her father was a great soldier and lord of a large serfdom. When these parents saw that the child was not only blind, but deformed,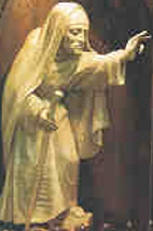 hunch-backed and crippled, they wanted nothing to do with her. After ignoring her for 6 years, allowing her to wander around the castle freely (which she, being highly intelligent managed to do well), they decided having her around in any way was too embarrassing. The father knowing the mother was somewhat religious, sold her on the idea of building a small "cell" next to the church (he'd learned about this from someone else). Food was brought to Margaret through a small window on the hall of the church building. Margaret was thru imprisoned for 14 years until she was 20. Then her parents took her to a neighboring town to a shrine with the hope of getting her healed. When that did not happen, they slipped away quietly in the night, abandoning Margaret who though an adult, was a dwarf or "little person" in addition to her other issues.
Margaret loved her parents deeply, even though they had rejected her, and during those years of confinement so close to Jesus, had developed a strong devotion to her Lord whom she wished to serve fully. She was sad that her parents had abandoned her but soon regained her sunny attitude.
In the town, she lived with the beggars for a while but then was accepted into a convent. However she ran into difficulties in the convent when she refused to bend the rule. (the nuns felt that the Rule, written many centuries again, was outdated). She was given an ultimatum - either bend the rule or leave. She could not give Jesus any less than 100 percent so she was expelled from the convent.
Heartbroken, she was taken in by kind people, some of them very wealthy but eventually Margaret became a Dominican Tertiary. The people with whom she lived gave her comfortable lodgings... too comfortable for Margaret. Margaret found a room in the tower used as a prison cell and requested that as her bedroom. The room was very small and had no heat in the Winter and was very hot in the summer.
Margaret was known for her kindness, humility and love. She and the lady of the last home she lived in, visited the poor prisoners often and fought for better conditions for them (they were chained to the wall most of the day).
Margaret also astounded those around her with her keen mind - she had somehow learned to recite the Office of the Blessed Virgin Mary, and many other prayers by memory (she could not read - Braille would not be available for many centuries yet). She knew her catechism and not only could help the children of those with whom she lived with their catechism lessons but also with their school lessons in mathematics and science.
Legend has it that when that very house she was living in, had a fire, she instructed her mentors to throw her cloak over the fire and it was completely extinguished.
She began to be known for mysticism, healings and many conversions around her.
She was not much of an eater (probably perhaps due to other disabilities) and by the time she was 30, she was sick a lot. At the age of 33 she got her final illness - what the authors call "a fever" and she passed through a Holy Death to her beloved Savior for Whom she had longed for many years. She died on April 13, 1320.
When she died, the townspeople thronged her funeral, and demanded she be buried in a tomb inside the church. The priest protested, but a crippled girl was miraculously cured at the funeral, and he consented.
Her body is apparently STILL, several hundred years later, uncorrupted ("incorruptible")
She was Beatified on:
19 October 1609 by Pope Paul V

Canonized
pending

Prayers
Compassionate God, you gave your divine light to Blessed Margaret who was blind from birth, that with the eye of her heart she might contemplate you alone. Be the light of our eyes that we may turn from what is evil and reach the home of never-ending light. We ask this through our Lord Jesus Christ, your Son, who lives and reigns with you and the Holy Spirit, one God, for ever and ever. - General Calendar of the Order of Preachers
Additional Information