The Sunday after Easter is Divine Mercy Sunday so on that Sunday we think a lot about St Faustina and the message which Jesus brought to the world through her.
"Mankind will not have peace until they turn to My Font of Mercy" (Jesus to St Faustina)

"In Confession I am there - I am only hidden by the priest" (Jesus to St Faustina)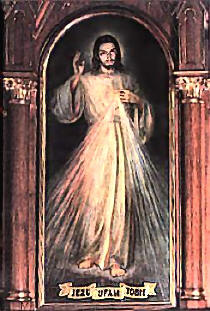 This message was banned in the church for 20 years and then when St John Paul became the Holy Father in 1978, one of the first things he did was to un-ban and encourage the devotion. He also established the Sunday after Easter as Divine Mercy Sunday.
On Divine Mercy Sunday you can receive the Divine Mercy Grace (a Plenary Indulgence) which means it restores you to the way you were after Baptism - sinfree. In order to receive this Divine Mercy Grace (which was established by John Paul II) you must go to confession within 20 days of Divine Mercy Sunday, receive Communion on that Sunday with the intent of receiving the Divine Mercy Grace and then pray for the Holy Father.
St Faustina, a deep mystic sister who lived in the first part of the 20th century, is admittedly not easy to understand and some feel the Divine Mercy message was originally banned due to her being so difficult to understand.
But looking at the devotion (which now is encouraged in our church) a second time, reveals that regardless of whether we understand the humble messenger, Divine Mercy seems to be a message just for these times when trust comes so hard to all of us. And in fact, Jesus TOLD St Faustina that the Divine Mercy Devotion and Divine Mercy Grace was to prepare the world for His Second Coming.
Ven. Pope John Paul II (the Great) established Divine Mercy Sunday as the Sunday after Easter in the Universal Church and yet, many churches ignore this Sunday i.e. they do not tell their parishioners about it. I asked the Jesuit pastor of one parish about it and he said "Superstition" (** sigh **).
But whether it's encouraged in YOUR parish or not, it IS an official church feast and you can obtain that special grace by going to Confession within 8 days before or after, receiving Holy Communion on Divine Mercy Sunday and asking for the special blessing and also on that Sunday, praying an "Our Father" for the Holy Father.
IN THE MEANTIME, DO pray the chaplet of Divine Mercy. You can pray it on line with EWTN (tune in at 3 PM Eastern, 12:00 PM Pacific), You can tune IN EWTN at those times if you have cable TV and they have EWTN available in your city (need digital cable) or you can pray online with Donna Cori Gibson (my favorite version) - there is a short ad before the video. You can buy the DVD from EWTN or Donna Cori Gibson.
The message of Divine Mercy elaborates on how much Jesus wants to give to us if we can manage to open our hearts to Him:
The graces of My mercy, Jesus told Sister Faustina, are drawn by means of one vessel only, and that is trust. The more a souls trusts, the more it will receive. Souls that trust boundlessly are a great comfort to Me, because I pour all the treasures of My graces into them. I rejoice that they ask for much, because it is my desire to give them much, very much. The soul that will trust in My mercy is most fortunate, because I Myself will take care of it. No soul that has called upon My mercy has been disappointed or brought to shame. I delight particularly in a soul which has placed its trust in My goodness

Were a soul like a decaying corpse so that from a human standpoint, there would be no hope of restoration and and everything would already be lost, it is not so with God. The miracle of Divine Mercy restores that soul in full. Oh how miserable are those who do not take advantage of the miracle of Godís mercy!
My Personal Testimony:
In March 2009, I prayed a version of Divine Prayers sung by Donna Cori Gibson. I received the Divine Mercy Grace (on Divine Mercy Sunday, the Sunday after Easter) in 2009 looking for a spiritual and emotional healing - from not only hardships suffered in my own life but also suffering a lot of stress from the difficulties of widespread immorality, the encouragement of the murdering of unborn infants by the executives in our government, the fact that only a portion of Catholics believe in the Real Presence in the Eucharist, the fact that many Catholics in Government agree or encourage the wholesale murder of unborn infants, and the disarray and disunity seen in our Church today. The Divine Mercy Grace was a wonderful feeling (as always - this was the third year I had received this Grace) but I didn't get the healing I was looking for. I started a daily Rosary but a cyber friend told me to pray the Chaplet of Divine Mercy also. Another friend at church gave me an Easter card including a Novena booklet -- of Divine Mercy! Obvious HINT from God. I started praying the chaplet of Divine Mercy daily with Donna Cori Gibson. For the first several times, I cried my eyes out as the Lord brought my sins before me and the effects they had on those around me. I also could visualize those rays of mercy covering myself and the world - the "Ocean of mercy". It was like spiritual surgery and as time went on, I began to feel the type of serenity I had never felt before IN MY LIFE (and I was 64 years old!). The coolest thing that praying the Chaplet of Divine Mercy has done for me is give me an assurance of my future in Heaven WITH Jesus and bring me much closer to God than I have ever been! I am addicted to the Divine Mercy Chaplet. It goes hand in hand with the Rosary and the Grace you get from both is just unbelievable. As important as my daily workout is my SPIRITUAL daily workout - one or two Rosaries AND the Chaplet of Divine Mercy. As Bill W. said "you don't have to believe in Epsom Salts for them to work!" TRY IT TODAY!!! (SueW)
More information:
Divine Mercy Sunday and prayers
Divine Mercy National Shrine - a lot of information and more!
Dives in misericordia: text - IntraText SC