return to memorials page return to Net-Abbey home page

Memorial for

Erich Schweitzer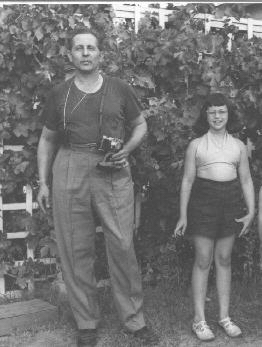 Erich was my Dad. Born in 1908, he was raised in Austria and put himself through junior College and the University, earning 2 PhD's, one in Mathematics and one in Physics (was a Master Student of Albert Einstein).
He came to the USA in 1938 or thereabouts and soon after, met my mother.
Erich Schweitzer worked as an engineer for many years and then, the last 5 years of his life, had his dream job as a physicist.
In his 20's he had been a bodybuilder and also a national chess champion.
He had a great sense of humor, was extremely clever and before he lost his hearing, liked to play the harmonica by ear. He loved photography and used Leika and Canon 35mm cameras. He always carried a camera with him, something I have done most of my adult life. (you never know when a photo op will happen). The photo above was taken in 1954 of me and my father. He naturally had his camera with him!
Our son, Erich, is named after him.
Our father was a good father, always providing for us and seeing that we had what we needed. Sometimes he would surprise me with a very nifty gift. For example, when I was 7 and had learned to ride a bicycle by myself (I have loved bicycles since I was a young child and I still ride!), Dad whisked me off, one Saturday morning, to the Firestone store and picked out a gorgeous cruiser bicycle for me with whitewall tires and shocks and even a horn and a headlight - it was a Cadillac as bicycles go! He got me a 26 inch (full sized) and told me rather than getting several smaller bicycles, he wanted to get me the best bicycle that I could use all during my childhood. I was so tiny, I had to ride it standing up but some of my happiest memories are riding that bicycle. I totally loved it!
My father and I never were able to be as close as I would have liked. For one thing, he, like many men, had a hard time communicating his deeper feelings to his children. For another thing, I always felt he was a bit disappointed in me because I was more interested in athletics than into typical girl things like dresses and lace. Although I became quite serious in pursuing music as I matured, his hearing me play, was painful because of his loss of hearing and only served to remind him how much, he missed playing music thus, he mostly did not attend my concerts. Nor was he in attendance, when I received a Science Award in my Sophomore year in High School. Whatever the case, I found it very difficult to understand him at times and I'm certain that he experienced the same with me.
I don't ever remember my father telling me that he loved me and when I asked him to sign my autograph books, he would write in German (which I could not read). Later on, when I was an adult, I took a semester of German just so I could read what he had written. And in one autograph book, I did find that he'd written the sentence "my precious daughter, I love you" (in German).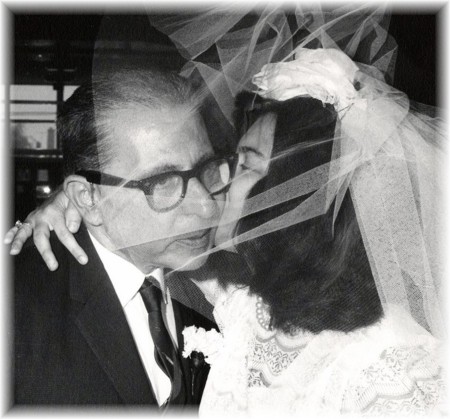 Also at my wedding when he walked me up the aisle to "give to away" to my husband to be, he told me "Now I want you to give me a good kiss and a hug - not just a bit of a peck!" And so I did give him an affectionate kiss. Looking at the photo, one can see he responded lovingly. Sometimes folks just don't understand each other until, unfortunately, many years later.
As he aged, his loss of hearing became worse and in his last few years, it was very hard to communicate with him. Years later, I discovered deaf sign language and spent several years learning it and teaching it to our son so that neither of us would ever again be in a situation when we could not communicate with a deaf person.
I had always hoped that someday, I would have a chance to reach out to Dad and try to establish a closer relationship with him, but as God's Plan went, he was called Home to the Lord before I had that opportunity.
In 1970, my Dad, a lifelong smoker, had a massive heart attack, from which he did not survive. His death certificate reads that he had been suffering from congestive heart failure, atherosclerosis and myopathy. He was just short of his 63rd birthday. Had his heart attack occurred a few years later, they probably would have been able to save his life with CABG surgery.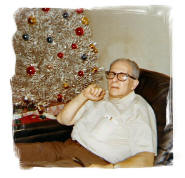 Dad always had wanted a son and we thought when our son was born, Dad would have really enjoyed him, especially as he was a namesake but Dad did not survive to see our son much older than 18 months.
The photo (left) was taken in 1970, his last Christmas with us. He died a few days later.
His last words to me in the hospital were "Behave yourself and be nice to your mother."
Dear Dad, I love you and know that when we meet over the rainbow bridge, we will understand each other well!