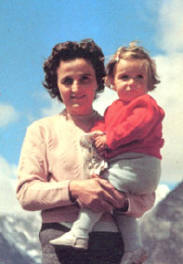 St Gianna was the medical doctor (Pediatrician) who, finding herself pregnant with her 4th child, also found she had a fibroid tumor in her womb. She was advised to abort the child (this was 1962 but in Italy) and she refused to do so. "The child must come first - save my baby" she told the doctors. So carefully, they removed the tumor and her baby grew to full term and was born, an adorable girl whom they named Gianna. Her mother only got to hold her for a few days - St Gianna died in intense pain about 8 days after little Gianna was born. St Gianna Molla in 2004, was the last saint canonized by Pope John Paul II and one of the few saints where the family was there during the canonization.
Dr Thomas McKenna, founder of the St Gianna Physicians Guild, tells us that St Gianna wasn't canonized because she was a martyr although her sacrificing her life for the life of Gianna Emanuela was truly a heroic deed, but because she lived a life of virtue.
However, in examining her life more closely, we are surprised at how human she was, reminding us that saints are people like us. Several family members have mentioned that Gianna drove her Fiat to her patients, FAST! :)
Gianna was born in 1922. She was the 10th child born to Alberto Beretta, a bookkeeper in a local factory and Maria, who although she had a teaching certificate, elected to stay home with the children. Both Alberto and Maria went to daily Mass, Maria, taking the children with her. Alberto, saved to be able to put the children through college, scrimping on his own needs to do so.
Three of the children made a commitment to religious life - two as priests and one as a sister. Gianna as she grew up, planned to be a sister also but when the time came, the Bishop told her that her health was too fragile for the rigors of Missionary work.
Several of the children died during childhood - 3 of Spanish influenza in 1925 and an older sister died of TB.
When Gianna was 19, she lost both of her parents - Maria, 55, had a stroke and Alberto who had suffered from pernicious anemia for many years, finally succumbed to it. Perhaps this influenced her to become a physician.
She met Pietro in 1954. Pietro was an engineer and the manager of a match factory. They began spending time together and in 1955, Pietro asked for her hand in marriage. They got married on Sept 24, 1955 and settled in a cozy villa provided Pietro by his company. The villa was only a few steps away from the local parish where Gianna began attending Daily Mass.
Her early married life was not easy. According to the movie, "Love is a Choice", Pietro's job called for him to be away from home a lot and Gianna must have spent many a lonely night without him there. When Pietro was away, they wrote loving letters to each other. Gianna often wrote how she wished he was home and how much she missed him.
Gianna not only ran a clinic (she was a pediatrician) but also volunteered for Catholic Action, a group both she and Pietro were very involved in. She kept up her work even when children came along, PierLuigi in 1956, Maria in 1957 and Laura in 1959. She had a nannie for the kids when she was working, the family states.
Her next two pregnancies were miscarriages and then, she got pregnant with Gianna Emanuela but this was a hard pregnancy from the get-go. A couple of months into the pregnancy, they discovered Gianna had a large fibroid tumor. Her doctors told her the only sure way to save her life was to do a hysterectomy which would, of course, abort the baby. The downside to that was she would not be able to have any more kids. Or the second option was to remove the fibroid and abort the child. Gianna felt both those options were unacceptable so she elected to have the tumor removed but to save the baby. She told Pietro clearly that if it was a choice between her and the baby, to not hesitate to save the baby.
After enduring what had become a high risk pregnancy, Gianna attempted Natural Childbirth at home (as she had had the other children) but that not working, she was taken to the hospital to have a c-section and delivered Gianna Emanuela. Sadly, after the surgery, she developed a high fever and was diagnosed parontinitis sepiticemia. They tried several things to save her but to no avail.
Gianna refused pain pills so she could be there for Pietro and her family and part of her agony was knowing she was leaving Pietro and 4 children without a wife and mother. She returned home at her request at dawn, on April 28, 1962 and died at 8 a.m. She had wanted during her long illness to receive Eucharist however was so nauseated that they could only touch the Host to her lips.
PierLuigi was asked how it was to live with a saint for a mother. He explained that he was only 5 when she died but remembers her teaching him how to ski, riding along with her to see patients in her Fiat and just doing things with his mother. "Did she ever spank you?" PierLuigi was asked. He laughed and said "Of course she did - I was a rascal of a boy!"
Pierluigi stated on one of the TV interviews that there was a lot of suffering, growing up without his mother but after she got canonized, the suffering was ended and now was the glory. He said he realized they have a lot larger family all over the world.
Pietro, the father, also mentioned the difficulties of him being a single father, bringing up the 3 kids (one of them died two years after St Gianna died). He lived to be 90 and died recently.
St Gianna Molla was an ordinary person who lived a life of extraordinary virtue and this a model for all of us.
references: "A Modern Day Hero of Divine Love", (San Diego, 2008)
"Love is a choice" movie shown periodically on EWTN
EWTN Live with Mitch Pacwa, SJ and Thomas McKenna, MD
"Sunday Night Live" with Fr Benedict Groeschel, CFR and Thomas McKenna, MD and PierLuigi Molla
Various other sources