In his many years as a priest (64 years!) Fr John Becker touched hundreds of lives. He taught many in English class who ended up becoming priests, he brought literature alive to a generation with less than an ardent interest in reading. But Fr Becker was also a pro life activist and up until his last few months on earth, he was out at the abortion clinics at 6:30 in the morning, leading the Rosary prayer, giving support to the pro life activists and also praying for the innocents who lost their lives to abortion and all the victims of abortion. He said Mass at a rest home regularly and he visited a dear priest friend of his who had had a stroke and was very disabled.
His last year, he wanted to teach Advanced Placement English to Sophomores but it was required that all his tests and assignments be on the computer system. Fr Becker worked hard and actually learned how to do this, an amazing task for someone born before TV existed, and when radio was young.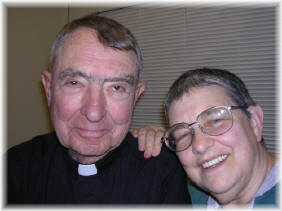 He lived the Ignatian Spiritual Exercises in his own life and led many people through these, on a one to one basis. I was one of those he led through the Spiritual Exercises and that caused a major spiritual renewal in my life. He was also my Spiritual Advisor for several years and gave me an appreciation of the beauty of the Sacrament of Reconciliation.
Fr Becker's thorn in his side was his hearing. He could, with cochlear implants, hear on a one to one basis but all his life, could not really enjoy parties, gatherings and the like because too many voices at once confused his hearing aids. He never complained about this although it often gave him grief. And despite his hearing problem he managed to become an excellent flautist when he was in High School.
Fr Becker enjoyed bicycle riding and actually took a couple of trips on a Bicycle in Europe. As late as the summer of 2006, he still was riding his bicycle in the mornings, several times a week!
His favorite saint was Bl. Fr. Miguel Pro, a wonderful Jesuit who lived in Mexico, touched many lives and was martyred.
And he was an author, writing 3 excellent mysteries - books which were not only very fun to read but also taught Catholic principles and ethics. Fr Wolfe, the main character in his books who was always finding another mystery to solve, became a favorite with his readers who anxiously awaited his next book. The books were delightful because he put a lot of Brophy Prep (where he taught) as well as his own experiences and dreams in Fr Wolfe's adventures!
You can get all his novels on Amazon - and they are highly recommended! ... click here for more info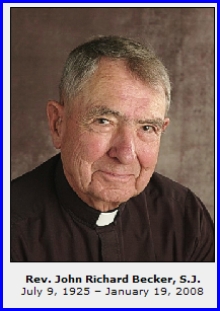 Fr Becker was ill in early 2007 and seemed to be losing strength (had stomach problems). He had had a heart attack a few years earlier and was on medication for congestive heart failure. The last time I saw him was early January 2008. He was feeling very tired and said he wanted to go lay down (it was after a Sunday Mass).
He died suddenly Saturday, January 19th, 2008 at 7 PM. The background of this page is of a beautiful place called "Jesuit Garden" where Fr Becker used to live before they had the priests at Brophy live off site. He loved it this peaceful garden and we would meet there sometimes when the weather permitted - I loved it there also.
Fr Becker is very missed by so many people. I miss him very much although I know that we now have a new saint in Heaven, praying for us and that he is happy with Our Lord, Whom he served so completely and faithfully all those years. So long sweet Fr Becker - I will see you again some day and until then, please pray for me....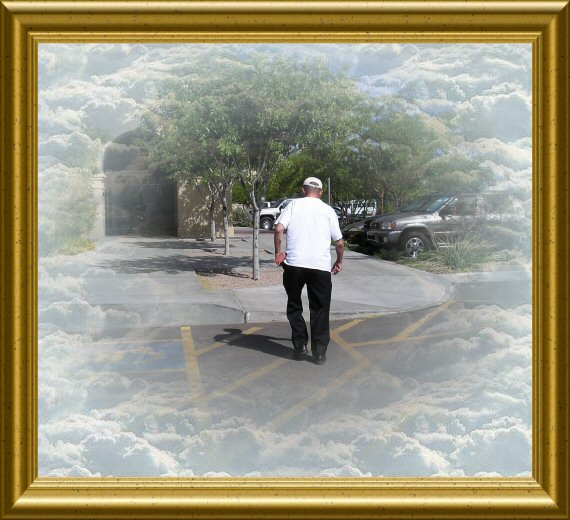 Fr's Obituary published in the AZ Republic, January 24, 2008
Rev. John R. Becker, Jr., S.J., died suddenly on January 19, 2008, in Phoenix, Arizona. He is survived by a cousin, Sister Miriam Therese, C.S.A., of Fond du Lac, Wisconsin. He entered the Society of Jesus (Jesuits) and taught English and perfected boarders at Bellarmine College Prep in San Jose from 1950 to 1953. Ordained a priest on June 15, 1956, from 1958 to 1977 he taught English at St. Ignatius College Prep in San Francisco. In 1977 Father came to Brophy College Prep in Phoenix where he was to teach until two days before he died. In his nearly 31 years at Brophy Father taught English at every level, was moderator of the student yearbook and newspaper, a frequent retreat director, and a spiritual guide for numerous people at Brophy and elsewhere. He became known for the unique ways he taught his students so they could remember the finer points of English grammar. He was known for his exceptional personal care for his students. In his early years he was known to his contemporaries as "Johnny Jet" because of his fast pace of life as well as his gait. Father was an avid advocate of pro-life issues. Although billed as mysteries, his two published novels, Father, Forgive Them and Cold Comfort dealt with issues pertinent to the sanctity of human life. A frequent presider at Holy Spirit Parish in Tempe, Father was beloved by people of the parish. Visitation will be held at the Brophy Chapel from 3:00 PM until 5:00 PM on Sunday, January 27. It will conclude with a prayer service at 5:00 PM. The Mass of Christian Burial will be held at St. Francis Xavier Catholic Church, 4715 N. Central Avenue, on Monday, January 28, at 10:00 AM. In lieu of flowers, donations may be made to Brophy College Preparatory, 4701 N. Central Avenue, Phoenix, AZ 85012.